Create a Zapier Zap to find Carts which were abandoned during checkout on your website.
🔎Note: In order to create a Cart Abandonment Zap first you need:
A Web Shop Manager website.
A Web Shop Manager Subscription that is Grow or higher.
A Web Shop Manager Universal API key.
What is a Zapier Zap?
Zapier is a 3rd party online tool that automates repetitive workflow tasks by integrating Web Shop Manager and Zapier-supported software tools you may be using. For a list of Zapier-supported tools, see Apps that work with Zapier.
To pass information between WSM and other software tools, Zapier uses a group of connectors called Zaps which translate data from one system to another and perform actions on that data. For example, you can create a Cart Abandonment Zap that identifies abandoned shopping carts in WSM. With this information, you may improve your strategy for recapturing more orders.
What does a WSM Cart Abandonment Zap look like?
Orders with an Order Status of "Building". The frequency of acquiring is defined by your Zapier account level, please check your Zapier account for your polling interval.
Once an Order in "Building" is found, set a delay time before checking again to see if the order is abandoned.
After the delay ends, pull the Order information again to see if it is still in the "Building"
Filter out orders which have completed and only continue if the Order still has a status of "Building" and does not have an email address.
What you do next is up to you and how you want to use this information.
An example would be to send the Order information to a remarketing Zap like Gmail
Create a Zap
Log into Zapier
Click on Create Zap
Now you need to name your Zap. This can be done by clicking on the text "Name your zap" in the upper left-hand corner of the screen.
Create a Trigger
A trigger is a task that will poll WSM looking for information. The Order trigger will poll WSM for Orders in a specific Order status (e.g. Building, New, etc..) that you set. For Cart Abandonment, we're interested in an Order status of "Building".
Choose your app. If Web Shop Manager isn't visible, start typing "Web Shop Manager" and select it when it appears.
2. After you select Web Shop Manager, you may also need to select it on the next screen by typing it in the drop down box.
3. Now choose your trigger event, "New Order in Any Status"
4. Continue
5. Choose your Web Shop Manager account. It will give you this pop up screen.
You will need your website URL and your Universal API Key to add your WSM Account. If you do not have a WSM Universal API key, please contact WSM.
6. Once your site has been selected or Added, click Continue
7. Under Customize Order > Status, select the Order Status of Building
8. Continue
9. Now, to verify everything is set up correctly and working, click on either "Test & Review" or "Test & Continue".
10. If all goes well, you will see data populate in the box below "We found an order!"
11. Continue
12. Zapier will move you to the next step, "Do This …"
Create a Sheet to Pull in the Data
For this example, we're going to start by making a spreadsheet, using Google Sheets, to be our reference point.
Select Google Sheets
Before we get too far ahead of ourselves, I've found it is easier if I create a spreadsheet with Headers in Google Sheets prior to proceeding through next steps in Zapier.

The Headers can be what you are looking to use in the marketing email you send out to encourage customers to complete their cart purchase. For my example, I used: Order ID (required for further steps), Customer Name, Order Status, Part Number/SKU, Address, City, State, Product Name, Price, Email, Image URL, and Date.
4. Once you've created your spreadsheet and added all applicable headers, go back to Zapier and Choose Action Event: Create Spreadsheet Row
5. Continue
6. Select your Google Sheets Account (the account you want to use for this process).
7. Continue.
8. Choose Your Google Drive Account
9. Choose the Spreadsheet you just created.
10. For worksheet, you can have multiple tabs (if you've set them up). For this example, we'll select Sheet 1.
11. Zapier will now walk you through the steps to complete your spreadsheet with data pulled from WSM.
12. Click in the first box under Worksheet. These are the Headers from the spreadsheet you created.
13. In this example, it is Customer Name. Once you click in the box, you'll see a drop down menu with several options. Choose the one that best suits that header.
14. Once you have completed this exercise for all fields, click Continue.
15. Now that it is set up, click Test & Review to preview the results. Zapier will give you a message that the row has been created and you can go to the spreadsheet you created to view it.
16. If you are satisfied with that, you can click the Blue Plus Sign below the box you were just working on.
Setting a Delay

From here, we'll select an amount of time to delay before proceeding with next steps in our Zap.
1. Scroll down to the Helpers, and select the Delay option (Delay by Zapier).
2. Choose "Delay For" and click on Continue.
3. Enter in the amount of time you want to wait before you consider the cart to be "abandoned" (e.g. 48 hours), and click on Continue
4. To test this, you'll want to set the time for 1 minute in order for the test to complete in a timely manner.
5. Now that the delay is set up, we need to check the order status again after the delay.
6. Click on the blue plus sign below the delay.
Find Order
Start typing "Web Shop Manager" to find the next action. Once you find it, select it, and set your action to "Find Order" and click on Continue
Choose your website for the Account and click Continue
Now you will need to select how you're going to find the Order(s) reported in the Trigger. This is done by having Zapier search for the Order ID.
Click on the Order ID drop down and you'll see an option for Custom. Click Custom.
In the drop down menu for New Order in Any Status in Web Shop Manager, select ID.
6. Continue.
7. Click Test & Continue
Filtering out Orders no longer Building
Click on the blue plus sign below the Finding Orders to add a "Filter" to the Zap. This step now allows us to check to see if the Order is still in the "Building status
Find the "Filter" App, and select it.
If the first drop down list, select step 3 "Find Order in Web Shop Manager". This will have the filter look at the data returned from that step in the Zap. Then scroll down and find the "Status" field and select it.
In the middle drop down list, select "Text Contains"
In the last field, enter "building"
Continue.
Once Zapier tests the filter step and shows a success, click on "Done Editing"
At this point of the process you should see something similar to the Zap work flow. All that is left is for you to decide what you want to do with any Order that makes it through the workflow and to click on the blue plus sign at the bottom to add any additional steps you require.
This could be sending the order information to a remarketing tool, or maybe you just want to log the orders into a Google sheet or have an email sent to yourself.
For this example, we'll be using Gmail to send out "Hey, you forgot this in your cart!" emails.
Click the blue plus sign under the last box.
Creating an Abandoned Cart Email
Choose Gmail in the list of Apps. Type it in the search box if you don't see it already.
Choose Action Event: Send Email.
Continue.
Select the Gmail account you want to use.
Continue.
Customize your email.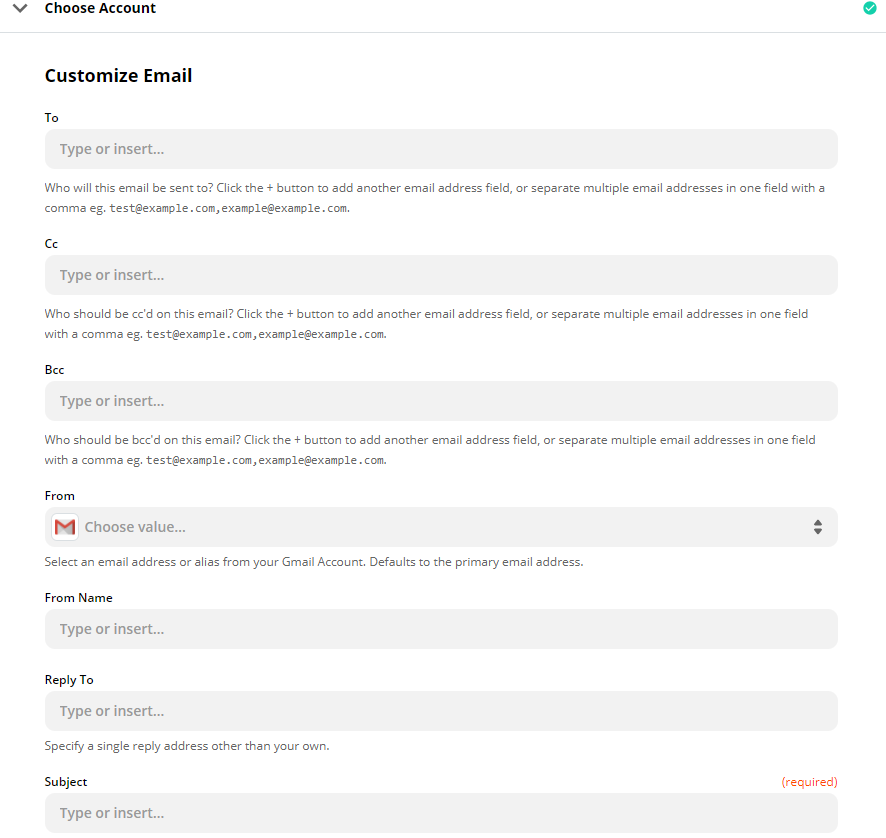 If you need additional support, please reach out to Web Shop Manager and we'd be happy to help you!